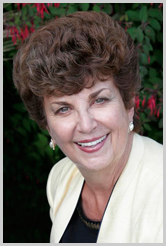 Pam Whyte
"When you live in a place like VIctoria, it's easy to be inspired to make the most of each day. From the beautiful Vancouver Island scenery to the abundance of outdoor activities to the friendly people of the community, I can't imagine a better place to call home."
As Pam Whyte sets her kayak into the Pacific, she is filled with excitement. As she paddles through that first breaking wave, she knows she's ready to take on anything this day has in store for her. This feeling is nothing new for this longtime resident of Victoria.
Always on the go
Pam is well-known for her energetic and enthusiastic approach to life. She is someone who fully believes life is what you make it and that challenges are simply opportunities in disguise. Whether she's enjoying her family, kayaking, biking, playing golf, gardening or in her church choir, Pam is always making the most of every moment.
It should come as no surprise, then, that Pam has chosen to call VIctoria home since 1986. After all, this is a place where many people come to make the most of their opportunities. From the natural beauty to the spirited people, the arts and culture to the active lifestyle, Pam fits right in with the Victoria way of life. "Almost everyone I meet here feels exactly the same about this wonderful area," she says. "It's this shared appreciation and community spirit that makes this a truly special place to live."
An inspired approach
With such a strong connection to the Victoria lifestyle, it's no wonder Pam has made such a lasting impact as a real estate professional. With her natural energy, extensive business experience and focus on what matters most to you, she does whatever it takes to make sure you get the results you are looking for. Whether you are buying or selling, Pam is determined to help you make the most of your opportunities in the Greater Victoria area.
Pam brings more that three and a half decades of experience in the real estate industry and an in-depth knowledge of the local home market. An investment property owner and business woman, she brings a unique insight into the design and renovation elements of your transaction. When you combine Pam's knowledge and experience with her boudless determination and energetic approach, it's easy to see why so many people throughout the area count on her for every real estate need.
The name to know
If you are planning to buy or sell a home in the Greater Victoria area, put your trust in a professional who works her hardest for you and whose positive evergy will make your moving experience an enjoyable one. That professional is Pam Whyte. Give her a call today and discover for yourself what her natural energy can do for you.
---
Home Sellers: The right information helps you get top dollar for your home
If you are selling a home in the Greater Victoria area, Call Pam Whyte today and ask for your free copy of "29 Essential Tips That Get Homes Sold Fast (And For Top Dollar)". This important information can make a big difference as you prepare to sell your home. Don't be left uninformed!
Home Buyers: Make an informed buying decision!
If you are in the market to buy a home in the Greater Victoria area, call Pam Whyte today and ask for your free copy of "Home Buyers: How to Avoid Paying Tood Much". Prepare yourself for success by maximizing your options and knowing your market!